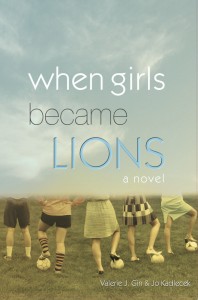 "The memory of a strong woman is a sanctuary . . . ." And so begins our story.
It's 1983. Teacher Bailey Crawford and a bunch of rag tag girls are about to make history as their school's first, and only, state champions. But few in town care; they're only girls, after all. It's not until twenty-five years later in 2008 when new coach Reynalda Wallace discovers their story, and recognition for the champs finally arrives. In the process, Rey learns how much of her own life—past and present—is bound to those first athletes whose struggle she never knew existed. Until now.
---
When Girls Became Lions: A Novel captures the impact Title IX legislation had on one mid-western town and celebrates women's friendships against the backdrop of sport history. It is a story for everyone—from soccer dads and college coaches to professional athletes, high school competitors and the many women and men who support all of them.
---
Watch our Book Trailer Video!
(Special thanks to LampPost Media for video production!!)