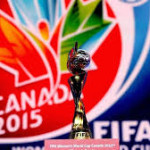 Now THAT was a tournament! And an amazing final, record-setting match in the 2015 FIFA Women's World Cup Soccer Tournament! Congratulations to each team who played, and especially to World Champions Team USA, who were there because of the amazing opportunities soccer pioneers and Title IX advocates provided.
Maybe the biggest victory from the 2015 World Cup was that so many women and men watched WOMEN playing the world's favorite game. That's a story in itself!
So ride the momentum, keep the celebration story going . . .